Jump to
Tools and Technologies
Required APIs on AWS Data Exchange
Important Note: To successfully subscribe to one of the featured providers below, you'll need to indicate that you are participating in the hackathon. For more info, follow the below steps. Failure to indicate your participation may result in a delay of your subscription request.
DATA SET REQUEST
Enjoying AWS Data Exchange and see something you'd like added to the catalog? Click here to enter a data set request. We will work on making these data sets available once the hackathon is complete.
Subscription Request Steps
Step 1. After selecting the AWS Data Exchange provider, you'll be redirected to the product's subscription request form:
Step 2. Review the subscription:
Step 3. Indicate that you are a participant of the AWS Data Exchange for APIs Challenge then click Send Submission Request to Provider: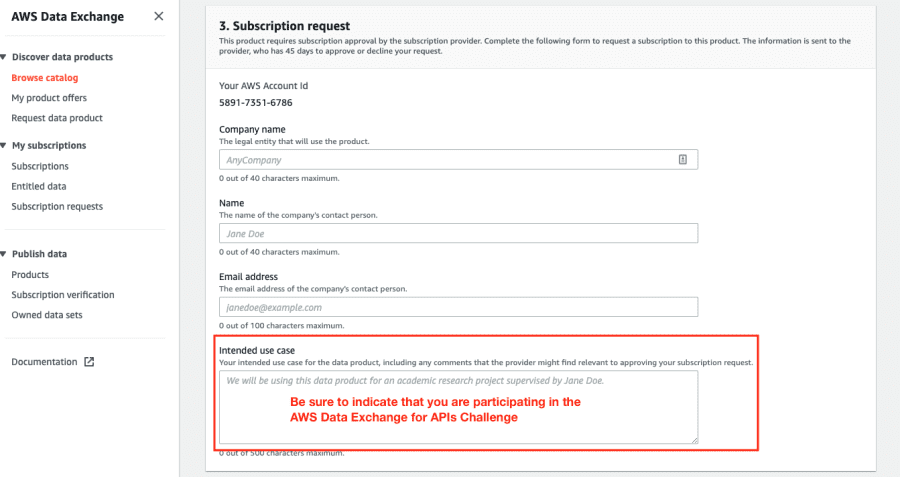 AWS Credit Request
Need help building out your project? Eligible Entrants can request up to $100 in AWS credits. Please follow the below instructions to receive credits:
Register for the hackathon

Check out the requirements of the hackathon

Ideate a solution / project that meets the requirements

Register for AWS Free Tier: Free Cloud Computing Services - AWS Free Tier 

Create a draft submission and add some of your idea within the project page

Complete this request form. Note that you must submit a valid idea in order to be eligible for credits — ideas that do not fit the requirements will not be considered.

If approved, you'll receive your credits via email within 2-3 business days
Please note that you are encouraged to monitor your usage of free trials so as to not incur additional costs. If you submit a credit request after Friday, November 18th at 1PM ET, we cannot guarantee you will receive credits.
Inspiration
Workshops / Tutorials / Answers:
Check out these project galleries for project inspiration and motivation:
Support Channels